Car: Vauxhall Corsa 1.5 Td
Colour: Metallic Blue


History:
This was never meant to be a project, hence I did not take any photos at the start.
I got it for the wife to learn to drive in, it had only just ran out of MOT and I bought it without giving it a good look over.
Work so far has included 2 new sills, 2 new rear wheel arches, a replacement back panel, numerous chassis and floor repairs, a new fuel tank, new rear springs, new rear shockers, new brakes, a couple of brake pipes, better front wings , a better bonnet, both track rod ends, both bottom ball joints, newer bumpers and at the time of writing (9-1-07) it still needs painting. Although it does always start first time. Oh and it drips oil on my garage floor !!!

Thoughts:
I cannot believe how rotten and thin the metal is on these cars


I now have the luxury of a double garage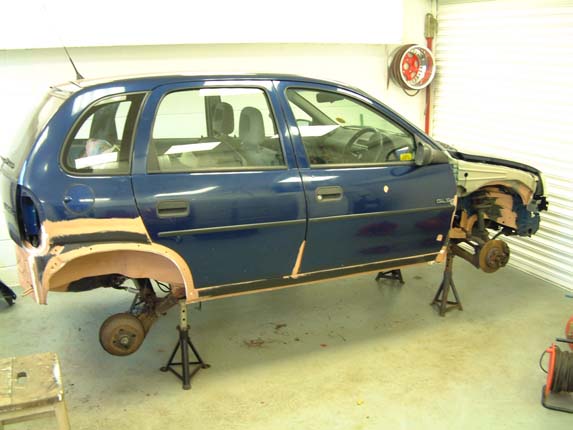 All the welding has been done by this point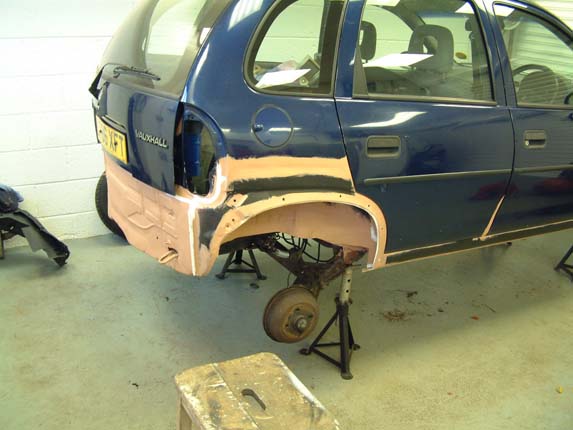 Car has now been MOT'd and just needs painting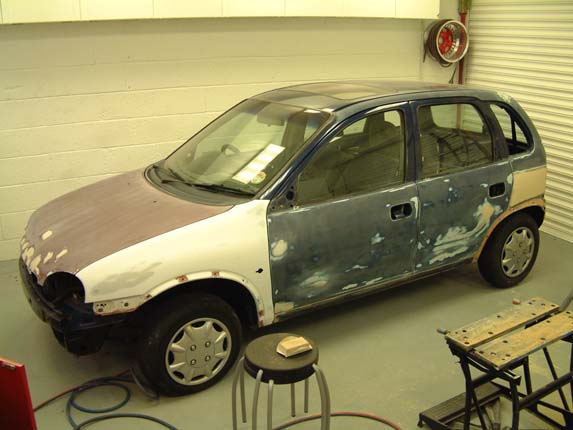 And all the parking dents sorted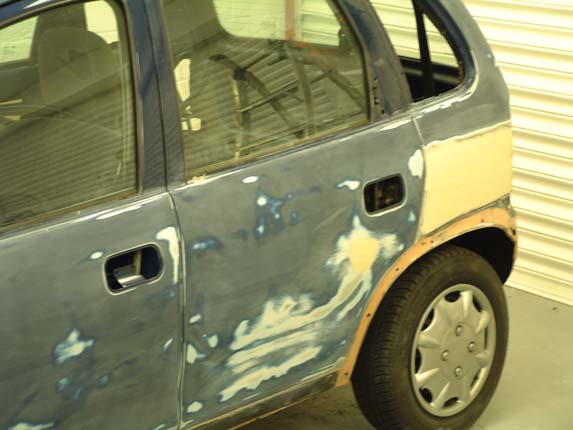 Previous accident damage to door also receives attention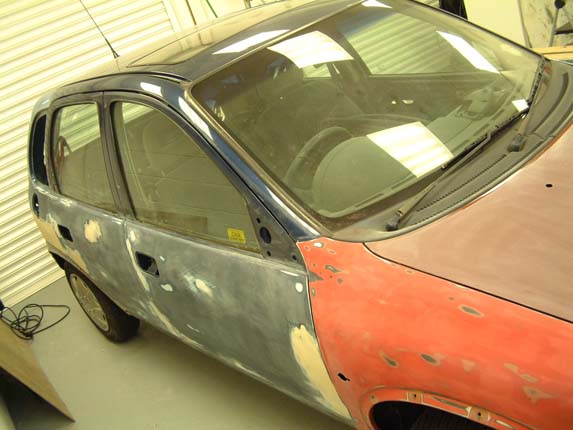 Date now 9-1-07
I would like to think I could get this finished within the next couple of months so that I can get my "M" back and get on with it, work and family commitments permitting.
All repairs flatted with 320 grit wet and dry, this ensures that no filler repair marks can show through later, this can happen when the primer and paint, sink into the filler once all the thinners has evaporated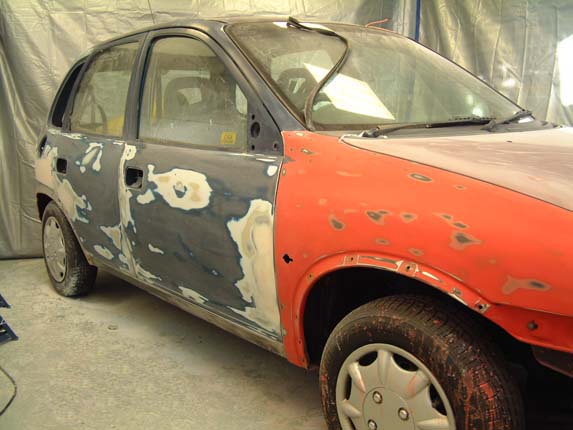 I have hung some silver tarpaulins round my garage in an attempt to contain the over spray, I have also taken one of the windows out and fitted an extract fan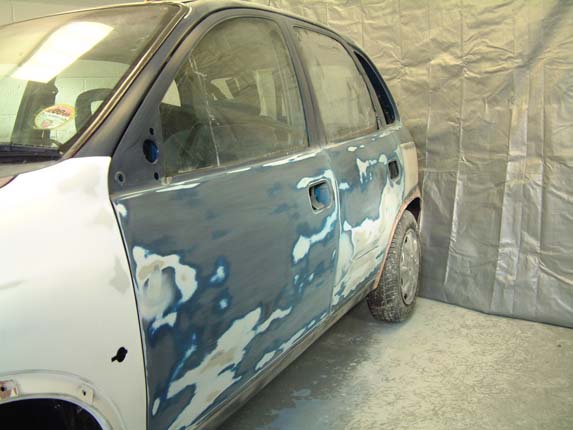 Bonnet looked ok but had some small rust spiders starting under the paint from stone chips, it would be foolish not to deal with these now, as later on they would just spread and grow into full blown rust scabs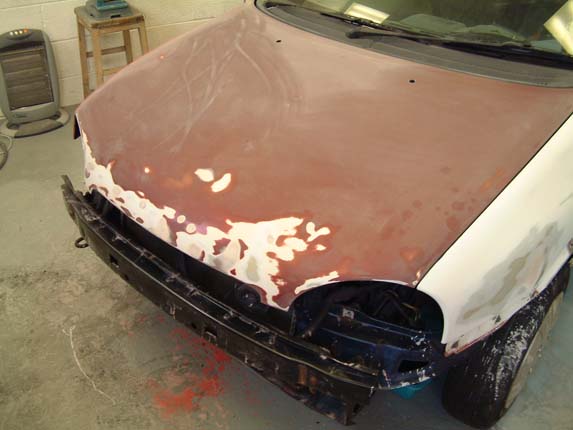 Masked up and ready for primer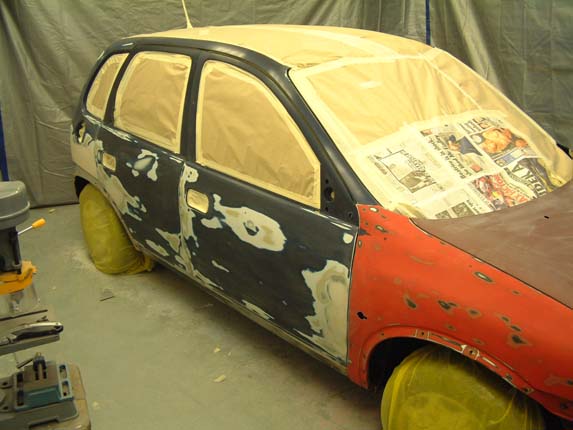 Interior was masked off also as door checks will need paint due to welding in of new sills and arch panels, making a neat job of the repairs minimizes the amount of filler needed later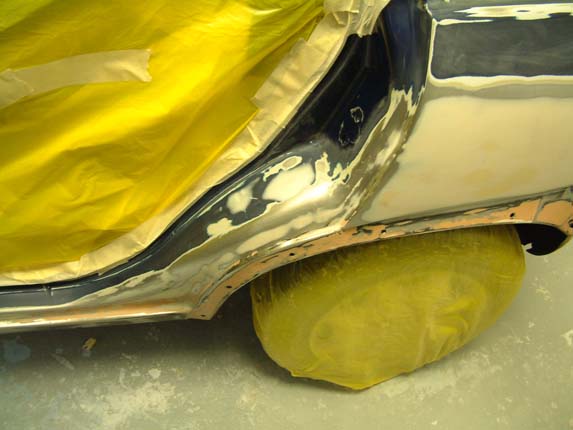 A coat of etch primer first over the bare metal bits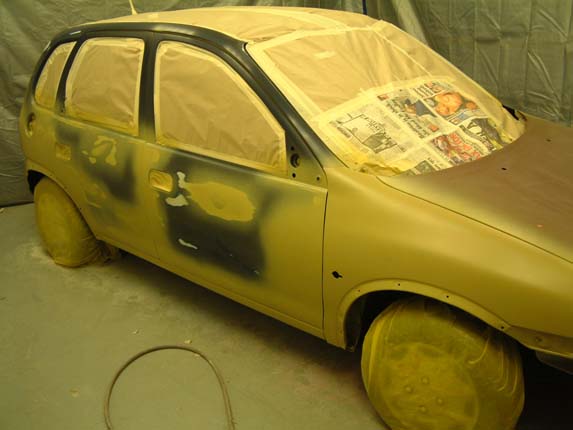 Then on with the high build Primer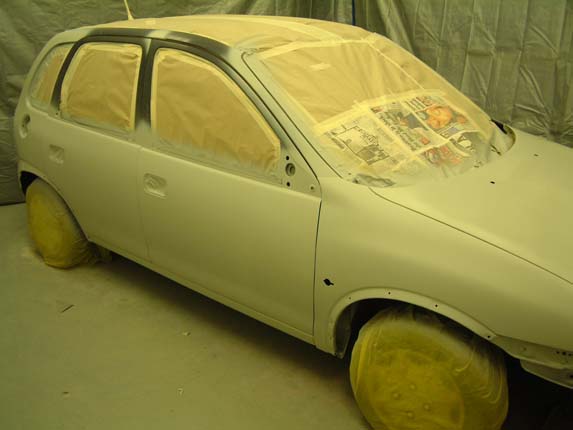 Once it is fully hardened, I will start to flatten down to remove any further imperfections, there may then be some more filling required, but this should be minor so will use a special filler called "stopper", this is a finer grade filler and is specially designed for small repairs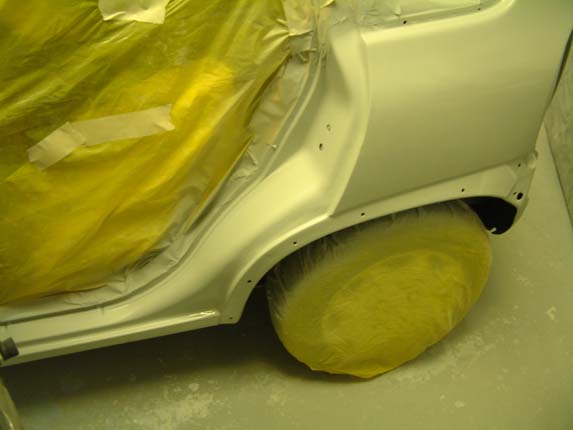 11-02-07
Corsa sills have been stone chipped and door checks painted, outer body has already been flattened so I hope to paint the outer body soon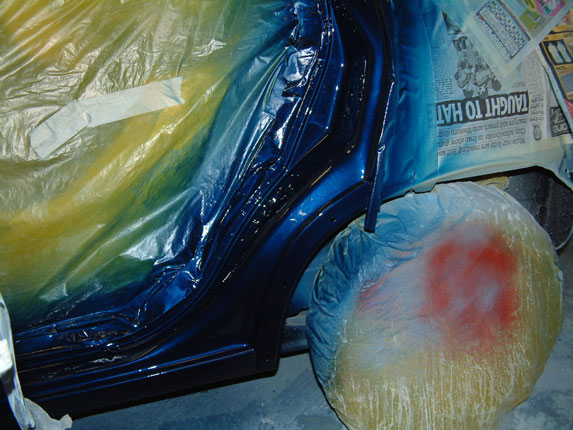 18-02-07
Corsa Finally Painted, will polish it next week once the paint has fully hardened, I intend to paint bumpers and arches as they are very faded from the sun and could do with something to give them a lift. I can't decide whether to paint the arches blue to match the rest of the car, or a Graphite Grey as a contrast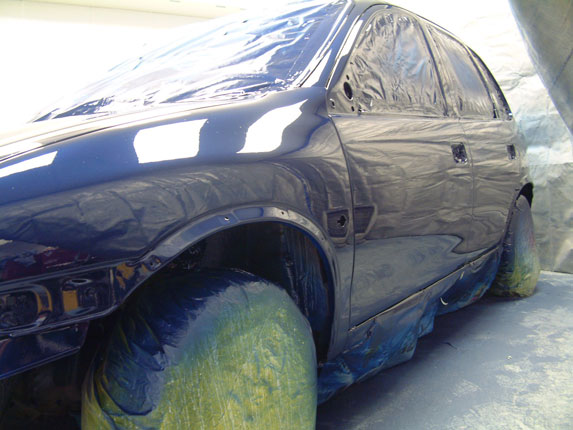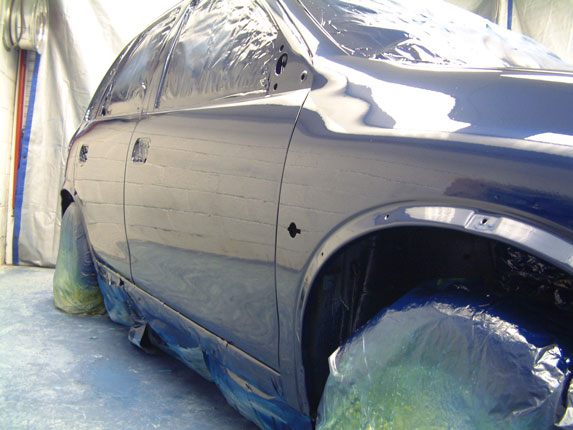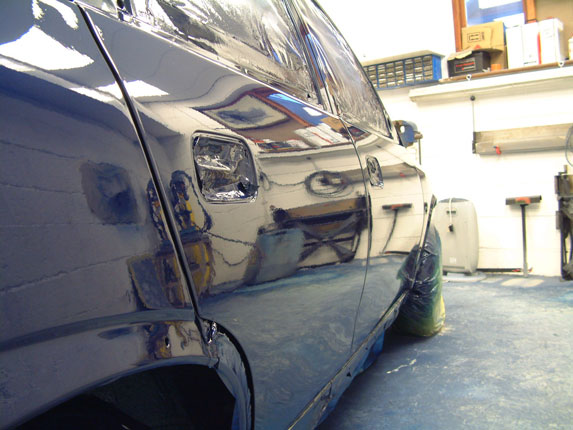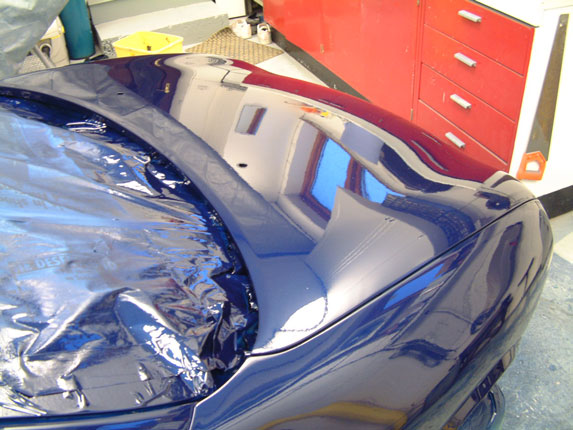 11-3-07
Polished and starting to put it back together, decided in the end to buy new black arches, and just paint the bottom half of the bumpers, as the later cars were when they were new , Just painted the front bumper today so hope to get all fitted up for next week end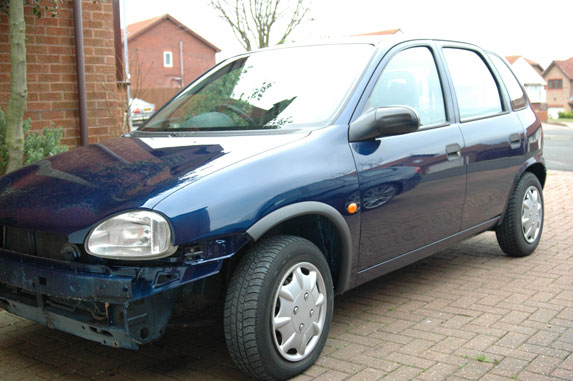 25-03-07
Finished at Last, its been a long hard slog but it all seems wothwhile now