Car: BMW E91 320d M Sport Touring
Colour: Le Mans Blue
Spec: M Sport Spec, electric windows, air conditioning, sport suspension 18" Alloys, Professional Sat Nav, Bluetooth Phone Preperation, Alcantera Sports Seats, M Sport Steering Wheel, 6 speed manual


Problems:
Fuel Consumption no where near as good as the E46, only after 15,000 miles did it start to improve up to its present level, average 37 mpg , 44mpg on a run. BMW dealer has no answers and is contunually trying to fob me off saying it will get better, then that it is because it is the sport model.
Had to wait over 6 months from placing order to getting a touring with the 18" wheels, in the end dealer supplied them as an option as BMW GB had a shortage and would only fit to saloons (apparently)

Thoughts:
Didn't seem as fast as the E46 at first but this is down to the new progressive turbo giving less of a kick
Was not sure about the new shape at first, but really love it now.
The colour is beautifull when it is all clean and polished
You can hardly tell it is a diesel, the refinement and performance (163 bhp) are outstanding


Problems Continued:

Fuel Consumption: This is an ongoing saga, my car only returns 37mpg on average, It has currently had 3 software updates in an attempt to rectify it but none have had any affect on consumption, one did change all the colours on the SAT NAV, but nothing else noticeable, I am still in discussions with BMW at present to rectify this, drove an E91 Courtesy car 2007 model (8-6-07) and achieved 61.4mpg average over a 50mile run at an average speed of 60mph, and it felt faster, so it is possible, despite what they might tell you
Hesitation at 2000 rpm: This is apparently a common fault throughout the range and is rectified with a software update to version 24.1
Corrosion on the roof bars: Small corrosion blisters starting on the underside of the roof bars under the black finish. Replaced under warranty by BMW
Knocking felt through steering wheel at low speed manouvering: BMW Dealer replaced steering rack under warranty, fault returned, they now think it might be the steering coloumn.
Rear Wheel bearing gone: The noise went from nothing to extreme over 3days, when I took it into the dealer they were so concerned about it that they would not let me take the car back out again until it had been replaced. Dealer replaced under warranty.
Sat Nav, radio and phone would just die and go blank: Usually just when you were in the middle of nowhere, and in a hurry, the Sat Nav screen would just go blank, but as this car has the i-drive system, you also lose lots of other things too, like the radio, the phone and some ventilation settings. This turned out to be a fault with the main brain that controls all these functions including the GPS etc, apparently quite a costly item, one that will probably write cars like this off in the future, again replaced under warranty
Fuel Consumption update August 2008
Car has now done 89,000 miles and is now returning an average of 39.7 mpg, this is still massively down on my previous E46, Dealer does not know what to do, has replaced injectors, inlet manifold, has had a dozen software upgrades, also just found out that the engines in the 2008 cars have been changed, wonder if this is anything to do with poor fuel consumption ??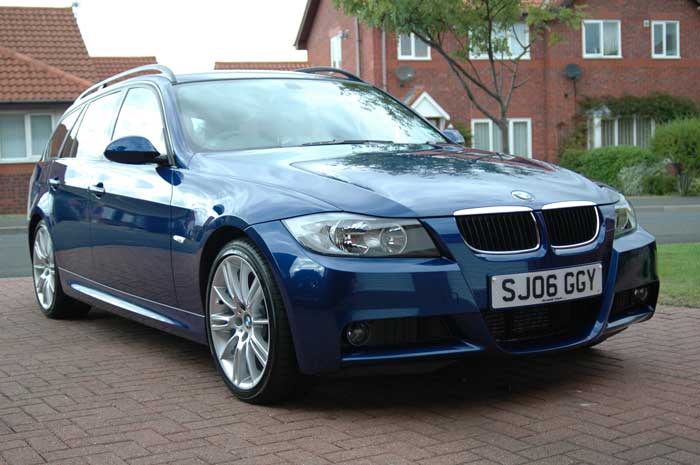 14 August 2008
Look what happened to my car today
I bet I know what you are thinking

Silly fool driving too fast in the rain, ran into the back of something, looks big like a lorry or a 4 x 4.

-
-
-
-
-
-
-
-


But I promise it was not my fault, I wasn't even there at the time !!

-

-
-
-
-
-
-
-
Ok so now you are thinking, OK I have seen this happen before, a reversing lorry has come round the corner and clipped the front of the car.

-
-
-
-
-
--

Well you are still wrong, what if I told you I was hit by a Rover 820
-
-
-
-
-
--
Now your thinking, hold on, that damage was a bit high for a Rover 820, aren't they quite low and pointy at the front.


-
-
-
-
-
-
-
Yes they are but this one was different
-
-
-
-
-
-
-
-
-
-
-
-
-
-
-
-
-
-
-
-
-
-
-
--
-
It was flying at the time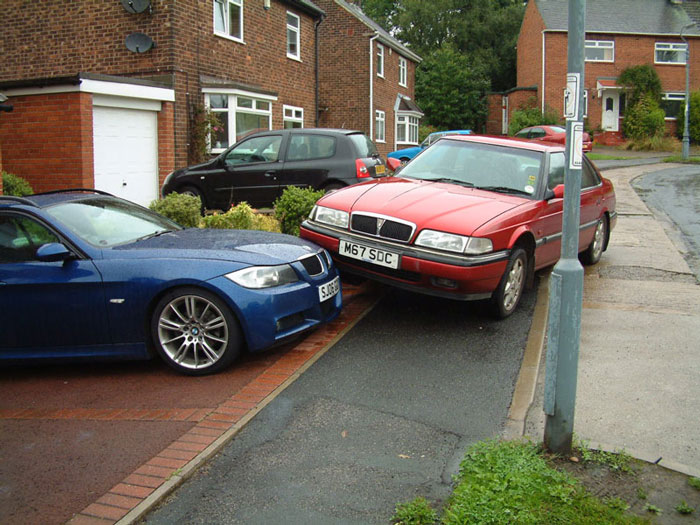 The old guy who owns it was trying to bump start it down the street, when it started to run away from him, he was still outside pushing it, and couldn't get back in to stop it.

It ran over my friends neighbors front garden and hit the low wall, and took off over that, and landed on my car.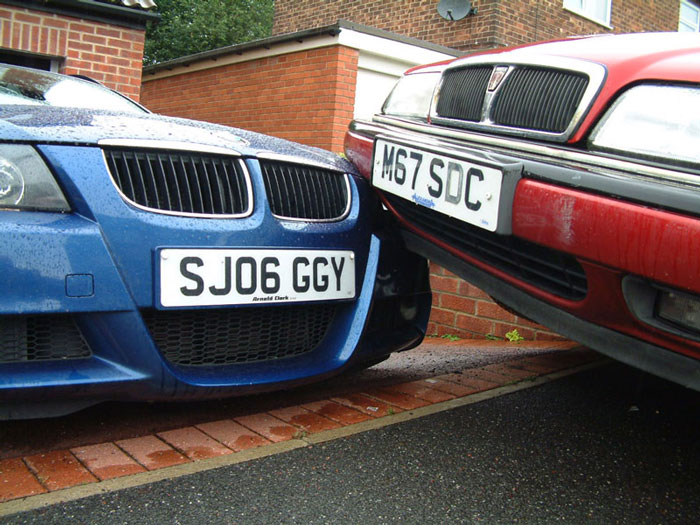 Can you imagine how I felt when I found out, I did not know what to expect.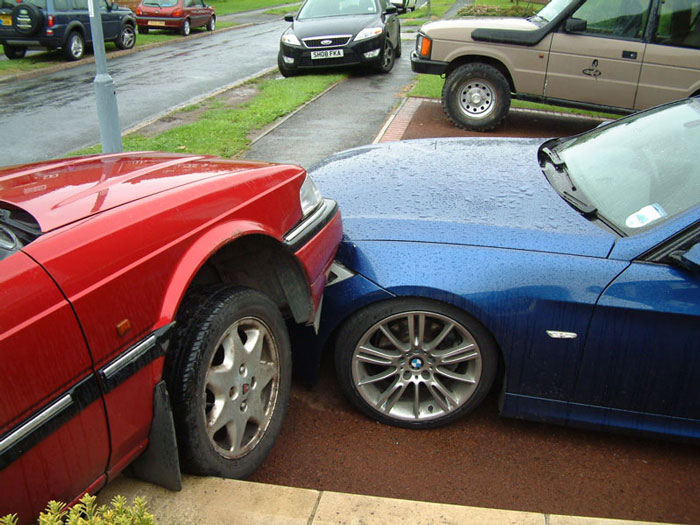 The nearside wheel on my car looks almost flat with the full weight of the Rover on the front end too.
The wall probably took some of the momentum out of the Rover, the side impact damage at lower level, and full force, could have perhaps been worse

What can you say


*********!!!!!!!!!!!!*********!!!!!!!!!!!!!